I'm a little sad to say goodbye to August this year, it was a good one. But I am so excited about school starting up once again! I've used so many great products this month, new and old. Here are some of my favorites that I found myself reaching for over and over again the month of August.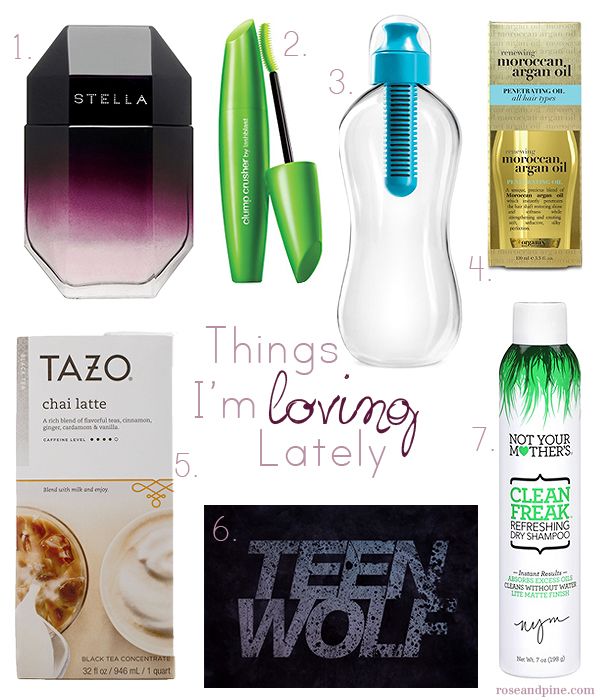 1.
Stella by Stella McCartney
- This perfume...
This perfume
. It is perfection. I could spray this on every single item I own and never ever get sick of it. My fantastic Mother of mine bought me a new bottle earlier this month, since I ran out. Thanks Mom!
2.
Covergirl Clump Crusher by Lashblast
- I
reviewed this mascara
earlier in the month, not expecting to fall so in love with it. It makes my lashes super long and keeps them looking natural and obviously clump-free. I've gotten comments and emails about this mascara, about people buying a dozen of them while on vacation since they don't sell them in their area, or how they've thrown out all other mascaras since discovering this one. It warms my heart when everyone loves a beauty product so much! I literally have a basket full of mascaras to try for my Search for the Perfect Mascara series, but I just want to repurchase this one again so badly!
3.
Bobble
- I bought this last week and I'm already addicted to it. Bobble is a company that makes water bottles and similar products with filters built in. The one I bought is made of a soft, flexible plastic so that you can squeeze it but it won't crackle like disposable water bottles. Plus they're BPA free and all that good stuff. You just fill it with tap water and you're good!
4.
Organix Renewing Moroccan Argan Penetrating Oil
- When I found myself in the haircare aisle of my supermarket, completely overwhelmed at the Organix products but knowing I wanted to try one, I picked this little guy completely because of his packaging. I know, don't judge a book by it's cover, but I totally did. I'm glad though, because this oil smells fantastic and makes my hair shine. Normally my hair looks greasy after I put oils in it, but not this one. It just soaks right in and makes my hair shiny like a pony. Or whatever.
5.
Tazo Chai Tea Latte Concentrate
- Everyone has a Starbucks addiction, right? Right? Mine is their chai. Latte, iced, frappuccino, I don't care, it's the only thing I order at Starbucks now. Other chai's don't taste right anymore. So when you tell me that I can avoid any real social interaction and make my own chai latte at home? Gimmie. I've tried making my own chai with the Tazo tea bags and it just tasted off. It wasn't Starbucks quality. But this? It is literally fool proof. You put equal parts of the concentrate and your dairy product of choice together and heat it up or pour it over ice. I prefer a little more of the tea over the milk, but that's just me. The beauty of doing it yourself is that you can make it however you want! I'm getting so excited typing this I might just go make one when I'm done.
6.
Teen Wolf on MTV
-
*Spoilers*
Okay guys, you want to see a real addiction? This is it. I have tried my best over the last two years to avoid Teen Wolf at all cost, but I failed. This show is the number one example of good shows with bad names. I watched the first two seasons on Netflix in two days. I am totally enamored with Lydia's wardrobe. Who knew a banshee could be so stylish? ;) And that kiss she had with Stiles? My loves. I can't wait for Aiden to get out of the picture so my two little smartypants can finally be together.
7.
Not Your Mother's Clean Freak Dry Shampoo
- Dry shampoo is a savior. I've tried many over the years, but I am really loving this one. It has a great price and comes in a big ol' can, so you get a lot of uses out of it. It doesn't smell like an old lady's house like most dry shampoos and doesn't leave little white fluffs like most either. Plus the name is adorable.
Bye bye August, it's been real.
(Did I really just use that saying? Yeah, I guess I did.)
Have a great start of September!