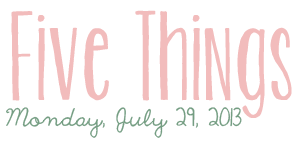 five posts
five extras
1. My neighbor's called the cops on us Friday night for no reason... The very nice police officer said they complained we were making too much noise, but everyone in the house was asleep. So... No idea what happened there.
2. I tired a DIY hair mask earlier this week and my hair smelled like sandwiches before I rinsed it off.
3. Hello, royal baby! :)
4. Some poor little wild brown bunny died on our walkway this week. It made me oh so sad.
5. I started watching Teen Wolf (the television show, not the 80's movie) Saturday night, and I'm already on season two. Oops?
(Also the season two intro is the coolest thing I've ever seen in my life.)
Also, I recently downloaded
Finds
, an app where you can post your shopping 'finds'. I have become so addicted to it, it's so much fun! Download the
Finds App
and follow me by searching 'Paige Whitney' and looking for my pretty face.
(It should be the first one there.)