Just because I've been in and out of the hospital this past weekend doesn't mean I can't dream about the beach just down the road. The most important part of summer isn't finding your perfect swimsuit or eating ice cream all day, it is keeping your skin safe in the harsh summer sun. I've gathered a list of summer skin essentials, everything you should have with you this summer to prevent harming your beautiful complexion.
First, a little backstory;
Personally, my own skin is kind of funny. I'm half Irish, so I get as pale as snow in the winter, but I'm also a quarter Polish and a quarter Austrian, so I tan very easily in the summer. When I was in middle school, I loved the way how bright and blue my eyes looked when I was super tan, so I would skim on the sunscreen more than I should have, much to my mother's dismay. I got smarter is high school after getting some pretty nasty sunburns, so now I slather myself in sunscreen daily - even if I'm just running around town and not at the beach.
My mother had some skincare scares of her own over the years. She grew up on the beach and was a self-procliamed 'beach rat'. She is always telling stories of how her, her sister, and their friends would cover themselves in tanning oil lay out until they were nice and brown. Now my mother is covered in freckles and has had 4 skin biopsies. I've loved her freckles since I was a baby, but she hates them. So, if you hate freckles, don't scrimp on the SPF.
Skincare Tips & Skin Essentials
1. Always, Always, Always Wear Sunscreen
I feel I can not stress this enough. Sunscreen not only keeps you from getting nasty, harmful rays that could give you skin cancer (such as Melanoma), but it also keeps wrinkles at bay. I read in this March's Allure Magazine that Mila Kunis wears sunscreen every day to keep her skin safe. If you like Mila Kunis, you'll be like her and wear sunscreen too.
*My dermatologist always says that any SPF over 50 isn't worth your money. That's what I go by, but if you feel you need a higher SPF, go for it.*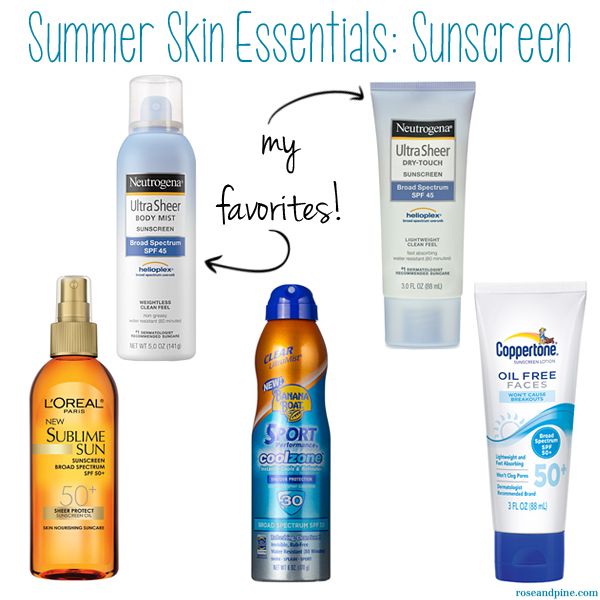 2. Cover That Pretty Face
Sunscreen alone might be enough if you've got tough enough skin, but throwing on a hat for extra protection never hurts. Your face is your calling card, cover it up for now so you won't have to worry about ruining it later. Your scalp needs protection too. If you don't want to spray some sunscreen on your head, grab a hat and enjoy not having that hot-headed feeling. Plus, a hat can be your best accessory.
3. A Sight For Sore Eyes
Believe it or not, your eyes can easily get a sunburn. The best way to prevent this is to throw on some shades before you leave the house. Nowadays, most sunglasses come with UV protection. If your sunglasses have wide enough sides, they can protect your temples as well. Double duty!
Check out my
Stunning Spring Sunnies for Under $40
post over here for even more sunglasses!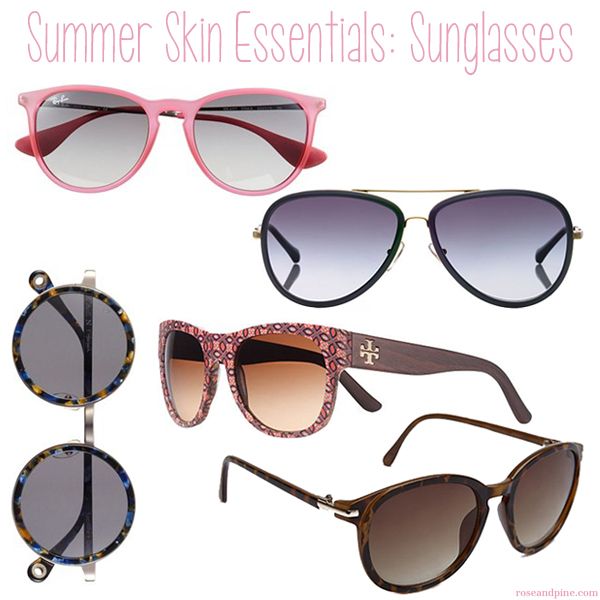 4. Keep 'em Kissable
If there's one thing you do not want to burn, it's your luscious lips. They're already delicate enough, imagine a rough burn on top of that. Ick. To keep you smiling all season long, wear a lip product with an SPF in it. It isn't recommended to wear straight up sunscreen on your lips, so get a couple cheap lip balms with an SPF next time you're at the drugstore and throw one in your purse, one in your beach bag, etc.
5. Fake & Bake
Fake tanning certainly doesn't have to be life threatening. One of the best summer tools is self tanner. You can chose from a formula that will give you a sun-kissed look right away or one that will build a tan over time. Just don't go crazy. You don't want to be 'Hollywood Barbie Orange', as I call it.
And if this last tip isn't obvious enough...
6. Stay The Hell Out of Tanning Beds!
These beds that literally blast UV rays into your skin are extremely harmful. It's 2013, if you're still using a tanning bed, I'm judging you. Judging you haaard.
*Disclaimer: I am not a doctor, I am an informed girl who knows way too much about skincare due to personal experiences.*