Happy Tuesday!
This month is all about jumping into Spring and getting ready for Summer. I'm going on a big vacation this month so I was inspired to make this month's wishlist based on travel.
Read my past wishlists
here
.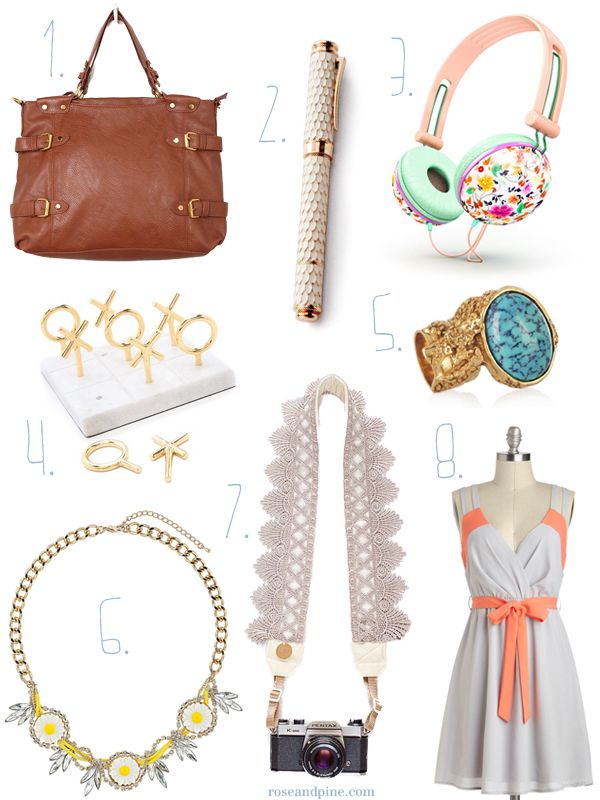 1.
Urban Outfitters BDG East/West Tote Bag
- This bag is so cute
and
functional. It's nice and roomy, perfect for a plane ride to store any necessities. Also, the leather is vegan, which is always a plus. (I wear leather but I try to buy vegan leather when I can.)
2.
Roberto Coin Snakeskin Pen
- Whenever I'm away I love to write a travel diary in a little notebook and send postcards to loved ones, this pen is perfect for both of those. The texture looks so beautiful and it looks like it writes just as well.
3.
Ankit Pastel Floral Headphones
- Nothing is more relaxing on a plane than putting on headphones and tuning out to the chatter around you. These headphones are adorable and oh so trendy. I haven't tried any Ankit products for myself yet but I have heard nothing but wonderful things. A good headphone or earbud is always a necessity.
4.
Johnathan Adler Brass Tic Tac Toe Game
- Another airplane treat, a little good old fashioned tic tac toe is always a boredom buster. This set is just so gorgeous, it would also make a great decoration on a coffee table in an all white living room when not in-flight.
5.
Saint Laurent Arty Gold-Plated Glass Ring
- Saint Laurent Arty rings are a staple in any wardrobe, the color of the stone in this ring is just to beautiful to resist. The colors in the stone remind me of the beautiful blue ocean.
6.
TopShop Bling Daisy Stone Collar
- This is the perfect necklace, it is so stunning that it doesn't require an over the top outfit, just some staple pieces that you have in your suitcase.
7.
Bloom Theory Straps in Washed Ashore
- A camera is a necessity on a trip, as well as a good camera strap so you don't drop your precious camera. This one is just so gorgeous and delicate without looking breakable, perfect for the feminine traveler.
8.
ModCloth Pop of Coral Dress
- The best staple for vacation is a nice dress. This ModCloth dress is adorable and the coral is the perfect Summer color. This dress would be great for a dinner out with some nude heels.
PS, Don't forget to follow me on BlogLovin'!
Many of you who follow me on GFC haven't yet, and I wanted to remind those who have not that GFC is closing so the only way to follow me will be on BlogLovin'
all images from the respective sale sites
I picked all items on my own and was not compensated in any way to promote them.