Spring is upon us, and each Spring there is that one outfit you just can not stop wearing. Whether it is a girly floral dress or a pair of wide leg jeans you always pair with your favorite blouse, there is that one combination that you are addicted to.
As a part of
IFB Project #88
, I have created a version of my 'Spring Uniform', or my go-to outfit this season. It's a causal look that I throw on to go to class, a Starbucks run, or an afternoon out with my friends. I added some neon accessories, they're one of my favorite trends for this Spring that I absolutely need to include more of in my wardrobe. I always love a striped shirt, and this Spring I have been obsessed with my Gap utility jacket that I got last Summer (Nearly identical one
here
).
Enjoy!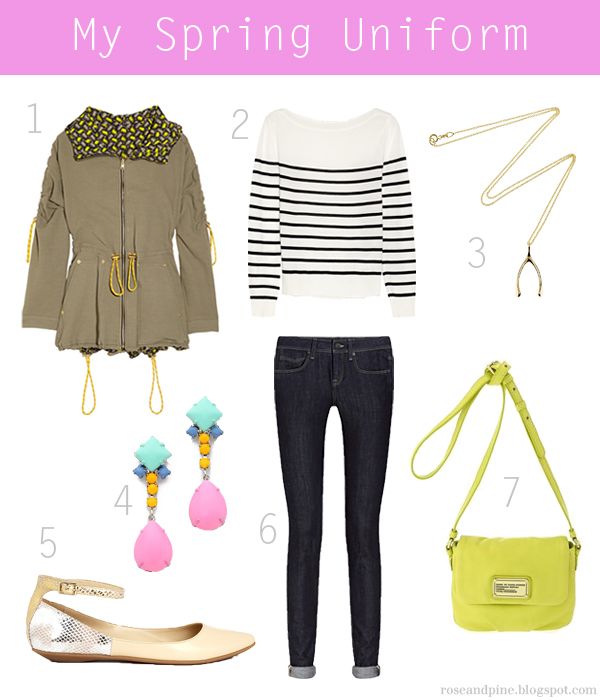 I love how the yellow of the bag makes the yellow details of the jacket pop.
When it comes to neon jewelry, don't go too crazy. Another option I had for this outfit was this georgous neon necklace from Urban Outfitters, but it was too much with the earrings. This delicate wishbone necklae is the perfect alternative.
If I had it my way it would be warm enough to wear wedges everyday, but since it is not I have to settle for flats instead.
Many of you who follow me on GFC haven't yet, and I wanted to remind those who have not that GFC is closing so the only way to follow me will be on BlogLovin'.
Images via their respective sale sites