It's March, which to me means Spring. I don't care if it's only forty degrees outside, if the sun is shining you can almost always catch me wearing a skirt and wedges. This month's wishlist is all about Spring colors and trends.
Read past wishlists
here
.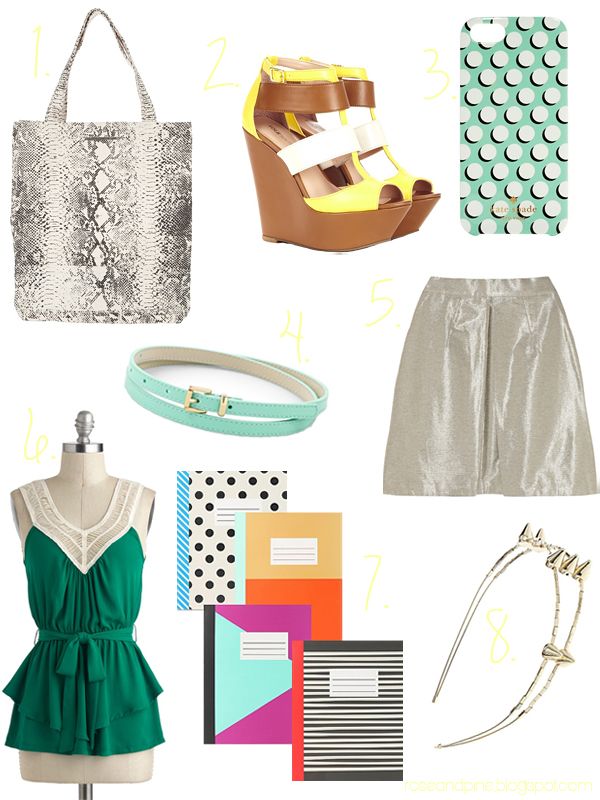 1.
Stella McCartney Faux Python Skin Tote
- I'm not into the animal print trend, but this bag is too cute. I love anything by a McCartney (Paul, Linda, Stella, even Jesse McCartney). This tote is perfect for hauling around books for class or as a plane carry-on to hold your laptop, iPad, magazines, and maybe even a few snacks.
2.
Sole Society Emma Platform Wedge
- Wedges are my favorite warm-weather shoes. I prefer them to flats because they give my 5'2'' frame some height, and to stilettos because they're more stable for clumsy little ol' me. These wedges from Sole Society are perfect for Spring, just look at that yellow!
3.
Kate Spade Newsprint Dot iPhone 5 Case
- I only have an iPhone 4, but I had to put this in my March wishlist anyway. It is the perfect color for Spring and the polkadots just jump right out at you. What a great tech accessory.
4.
C. Wonder Patent Leather Super Skinny Belt
- Belts are a great way to update an outfit for Spring. Have a dress that was fine for winter but needs a little something for the new season? Just add a freaking belt.
6.
ModCloth Tangled Up in Green Top
- The ModCloth site says this could be worn with a "vintage moto jacket", and I can't think of anything better to wear with this. In addition to a cool jacket, you could also wear a light cardigan or a shawl for a night out.
7.
Urban Outfitters Graphic Notebook
- March is a weird time school-wise, you are so close to the end of the year, yet so far away. One of my favorite ways to get over this odd depression is to get some new school supplies to help excite me about classes until June. Most of my classes are online this semester, so I don't need notebooks but I am one of those people who just loves buying school supplies for no reason.
8.
Topshop Spike Bar Aliceband
- I love, love, love spikes. Ever since I cut my hair I have been wearing a lot of headlands, I like how they look with my new haircut.
I find it ironic that while it is so sunny outside, I'm sitting inside writing about Spring.
I'm all about the outdoors.*
all images are from their respected sites.
I picked all items on my own and was not compensated in any way to promote them.